CapitalRise wins at the British Bank Awards for the fourth year running
CapitalRise was honoured to be named Best Alternative Finance Provider at this year's British Bank Awards ceremony. This is the fourth win in a row for CapitalRise at the awards, which are widely recognised as the ultimate symbol of excellence across the banking industry.
The British Bank Awards are entirely decided by customers' votes and reviews to determine the winners. So, we are incredibly grateful to all of our brilliant customers for taking the time to vote for us and for their glowing comments. You can read all the reviews here, some of which include:
"A very good alternative to traditional investments. Thoroughly researched property investments offering a good rate of return for short or medium-term investments. Excellent customer service."
"Always gives amazing customer service. Going the extra mile is standard with CapitalRise."
"Very professional, well-managed investment platform with an impressive degree of care shown in the selection of investments on offer."
This win comes after another strong year for CapitalRise, as the business continues to go from strength to strength. Since inception, the business has now repaid over £132m of capital and returns to investors, agreed £280m of loan facilities, and funded £784m in property value. We have also seen 125% annual growth in our live loan book, originating more in 2022 than in 2016-20 combined.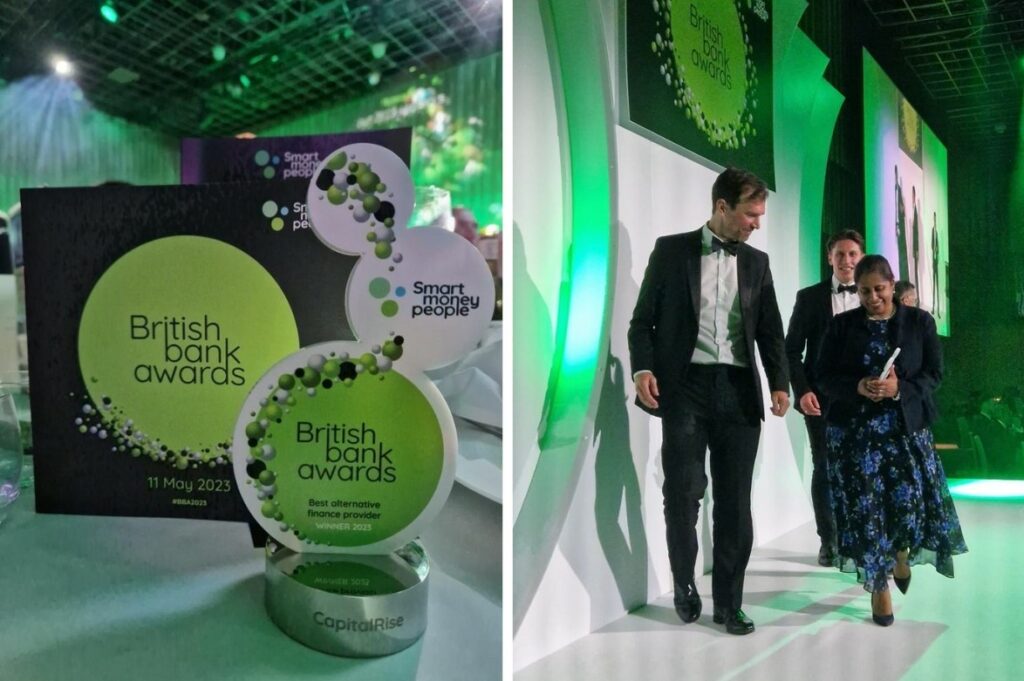 CapitalRise CEO, Uma Rajah, commented: "We are thrilled to have won at the British Bank Awards for the fourth year in a row. The award recognises all the hard work from each and every one of our team members over the last year, which has produced some incredible results – and delivered great opportunities for our borrowers and investors alike."
The awards ceremony was held at the luxury Londoner Hotel in Leicester Square. Members of the CapitalRise team were joined by some long-term platform investors, as well as guests from our institutional investment partners and ISA administrators. A big thanks to the Smart Money People team for hosting such a great event!