Market Update – January 2019
A sunny five-year forecast for prime central London property
The latest Savills residential property forecasts show a strong prediction for prime central London property over the next five years, with 12.4% growth forecast.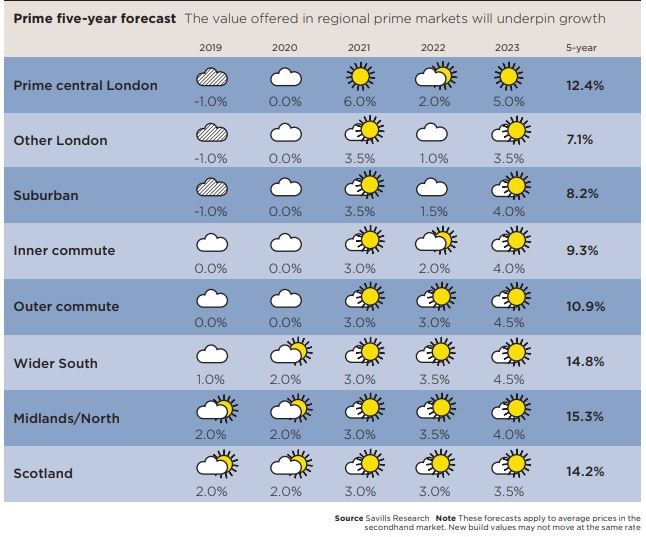 Image source: Savills UK Residential Autumn report
Through the years, the experts on our lending team have seen prime central London (PCL) property prices weather the storm through the ups and downs of many property cycles and bounce back faster and stronger than the rest of the UK property market when it comes to property downturns.
While it's true that PCL has seen relative decline since 2014, PCL is now nearing the trough and there are there plenty of great development and investment opportunities to be found.
"Historically, any recovery in the prime markets has been sparked in central London, with a strong bounce in values. Often, the catalyst has been a currency advantage, though it requires this property to look identifiably good value and for some of the uncertainty afflicting the market to clear." (Source: Savills UK Residential Autumn 2018 report)
We received over £1.3bn of lending enquiries over the last six months of 2018, proving that developers are finding opportunities and giving us confidence that this will only increase through 2019 as hopefully some of the Brexit uncertainty lifts and the market begins to recover.
CapitalRise CEO, Uma Rajah commented on the report: "This is a strong forecast and it reflects what we're expecting to see in the market. There are a lot of developers out there, seeking finance for impressive prime developments. With strong track records and long-standing market knowledge, these developers are developing because they know they'll be able to sell. With this demand still very much present, we're sure that the market will continue on the road to recovery."
The next CapitalRise prime property investment opportunity will be launching soon. Take a look at our previously funded projects to get a feel for the type of investments CapitalRise members have already funded.
You can find a full copy of the Savills Autumn 2018 residential property forecasts here.